Adult Equitation in de HJEH Online Horse Show.
Gejureerd door Angela Chovnick.
---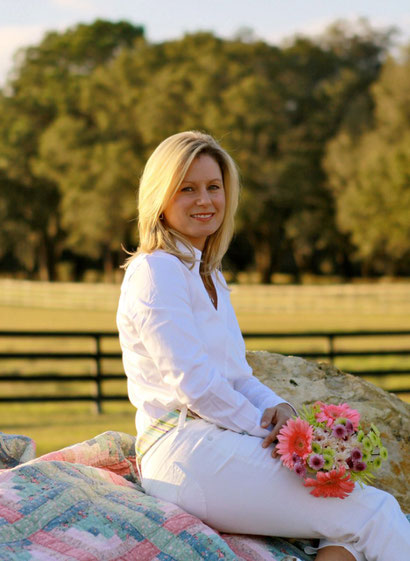 Angela Chovnick
Angela Chovnick: USHJA 'r' Hunter en Equitation jury. Afkomstig uit Ocala Florida. Tevens is ze een USHJA certified Head trainer bij Tri-Color Stables. 
---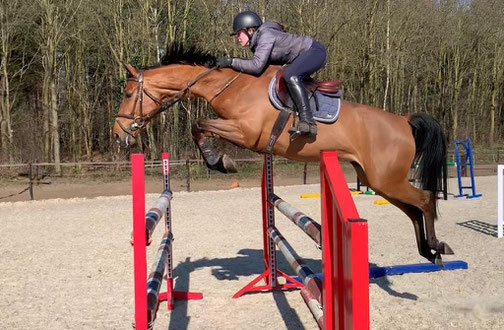 1st place: I quite like this pair. This rider has a lovely base with a good leg, her inner ankle and calf have good contact with the side of her horse. Her seat is out of the saddle just enough and she has allowed her hip angle to close and remain over the center of the saddle to allow her horse to jump freely. Her back is flat, with eyes up looking forward to the next jump. Her release is soft and following. All good.
This horse has a very sweet expression over this jump and a nice tight front end. I might like to see just a little bit more weight in the rider's heel. It looks like the rider may be wearing half chaps with paddock boots for a schooling day at home, the boots could use some cleaning and polishing.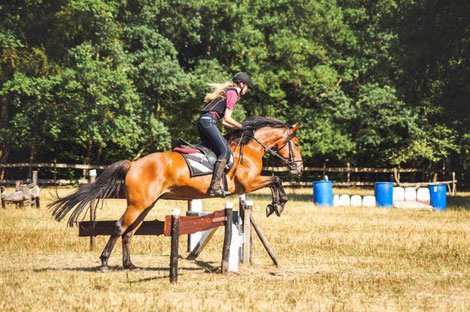 2nd place: This appears to be an impromptu picture of this pair schooling over some interesting jumps. This rider's leg is exactly where it should be, just behind the girth and with her lower leg making contact with the side of her horse. I would like to see more weight in her heel. Her stirrup has slid too far in the home [stirrup all the way against the heel of the boot] position and she is standing on the stirrups which has pushed her seat too far out of the saddle. This rider has a lovely following, soft hand. Her horse looks like a good, solid citizen with his kind eye, ears forward and a nice front end.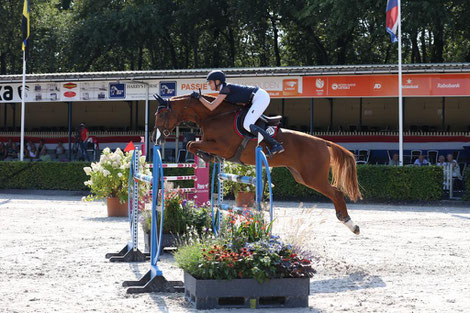 3rd place: This pair appears to be showing in a jumper class and they give the appearance of being brave and accomplished competitors. Unfortunately, this rider is pinching with her knee which has allowed her lower leg to swing back quite dramatically. This position also lends itself to the upper body laying over the front end/neck of the horse which has indeed occurred in this picture. Her seat is out of the saddle appropriately, but if this rider had a better base of support with her lower leg her upper body would not have fallen on top of the horse. She has a good crest release here, with a flat back and eyes up.
This horse has a great front end with bright eyes and ears forward over this wide airy oxer.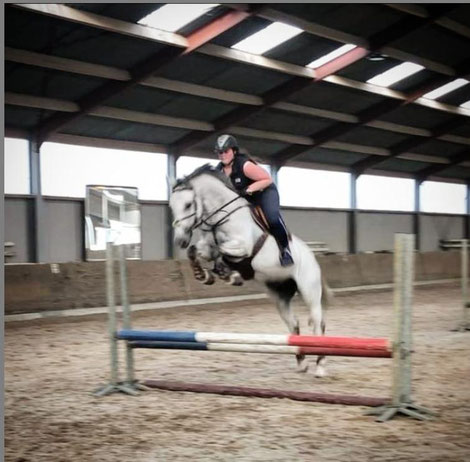 4th place: This picture makes it slightly difficult to assess correctly due to the blurriness and front angle the photo was taken from. This rider's lower leg has slipped too far back and has very little connection with her horse's side. She might benefit from shortening her stirrup leathers one or two holes, again it's not completely easy to see in this photo. There is no hand release on this horse's mouth which is uncomfortable for the horse and doesn't allow her horse to jump his/her best. This horse seems in be putting a big effort over this small jump. Judging only from this picture, I might think the horse came to this jump with a lot of energy and he also may be young or green. He has a great front end.